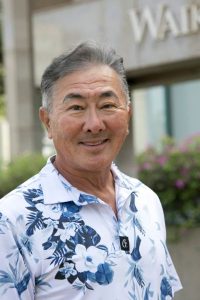 Dennis T. Nagata, DDS
"My goal is to help a lot of people get better sleep"
Hawaii-Born Expertise
Dr. Dennis Nagata was born and raised in Honolulu. He is a graduate of Iolani School. He was inspired to pursue dentistry by his mother, Nancy, who worked with the military at Schofield Barracks Dental Clinic as a dental assistant. Dr. Nagata received his Doctor of Dental Surgery degree from the University of Southern California in 1979.
Founder of the Hawaii Center for Cosmetic and Laser Dentistry
Dr. Nagata founded the Hawaii Center for Cosmetic and Laser Dentistry in 1979. He was a former clinical instructor at the Las Vegas Institute for Advanced Dental Studies, where he helped dentists learn advanced and specialized techniques to help patients in need of complex treatment. He continues to lecture and present cases and participates in numerous post-graduate programs.
Experienced and Trusted
Dr. Nagata is a general and cosmetic dentist who has over 40 years of experience in his field. He is currently serving patients' dental needs at Landmark Dental Group in Honolulu, Hawaii. Established in 1980, Landmark Dental Group offers numerous dental services, including biocompatible dentistry, general dentistry, cosmetic dentistry, dental implants and TMJ treatment.
Mission Statement
"Our dental team is committed to excellent oral health for our patients. We offer comprehensive dental care and brilliant cosmetic dentistry to Honolulu, Hawaii, and the surrounding areas. Our facility is large, with 12 operatory rooms and a big waiting area, and is kept clean and fresh for your convenience and comfort. We do all that we can to keep you comfortable and relaxed at every stage of care, and we strive to engage with our patients on a personal level to meet your oral health needs."
Comprehensive Approach to Solving Dental Concerns
Dr. Nagata takes a comprehensive approach to addressing dental concerns so his patients can smile with confidence. As part of this approach, he also specializes in the following fields:
Smile With Confidence
Dr. Nagata uses his expertise and dedication to combine artistry and technology and give his patients a smile that exudes confidence, beauty and well-being.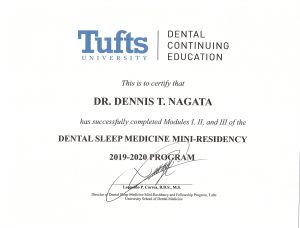 Dentistry Solutions for Quality Sleep
Dr. Nagata is also deeply involved with sleep dentistry and is trained and certified to treat obstructive sleep apnea (OSA) using oral appliances and NightLase® snoring reduction therapy. He has also completed a mini residency at Tuft's University School of Dental Medicine in 2021.
Our Office
We want you to feel comfortable when you visit Dental Sleep Medicine Hawaii, and we invite you to tour our office online to become familiar with our facilities. Please feel free to give us a call at 808-946-6326 if you have any questions or would like to make an appointment with our experienced dentist in Honolulu, Hawaii, Dr. Dennis Nagata.
Our wonderful team will be happy to help you set up your appointment with Dr. Nagata, and to make you feel relaxed when you walk through our doors. We are here to treat your dental and sleep needs and will be happy to answer any questions you may have. Please feel free to contact us about anything regarding your care.