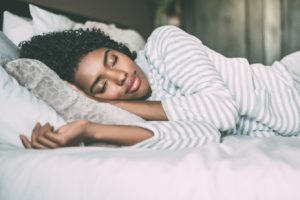 For patients who are interested in a non-invasive treatment for sleep apnea and snoring, we offer NightLase® treatment here at Dental Sleep Medicine Hawaii. This laser procedure can significantly improve the quality of your sleep by minimizing the effects of sleep apnea. If you would like to learn more about NightLase in Honolulu, Hawaii, contact our office at 808-946-6326 today and ask for an appointment with our dentist, Dr. Dennis Nagata!
NightLase therapy is a more convenient method for treating sleep apnea and snoring. The procedure will involve the use of gentle laser pulses that penetrate heat into your oral tissue and tighten the back of your mouth to reduce snoring. This laser technology is capable of gently opening up your airway and helping you develop better breathing ability as you sleep. If a CPAP machine or oral appliance is not for you, consider asking Dr. Nagata for laser treatment instead.
NightLase is a painless, noninvasive laser procedure that can be taken care of in one simple appointment. The laser heats up the soft tissues of the throat, causing the collagen in them to contract. This automatically opens up your airway and keeps the soft tissues from relaxing, ensuring that you breathe better while you sleep. Patients have described the sensation as a hot mist being sprayed in the back of their throat.
Most patients experience immediate results, with sleep apnea symptoms like snoring reduced by at least 50%. In fact, studies show that NightLase has a success rate of over 85% to treat snoring and sleep apnea. However, NightLase therapy is not a permanent solution and only lasts a few months to a year before another procedure is required. That is why laser therapy is best used in conjunction with other treatments. An example would be if your sleep apnea was severe enough to require a CPAP machine, but you realize that you have CPAP intolerance. One option would be to receive laser therapy to lessen the severity so that you can be a better candidate for an oral appliance. As a patient-friendly tool for treatment, NightLase is a highly effective treatment that can safely increase the quality of your sleep. This treatment is often recommended for patients who are CPAP intolerant or for those who cannot wear oral sleep appliances.
If you have sleep apnea and would like to achieve a healthier night of sleep again, contact us today and schedule your consultation! Feel free to ask Dr. Nagata about NightLase treatments to see if they are the right option for you. Once we have a treatment plan that is customized to your needs, our dentist and team will help you get a good night's sleep again.